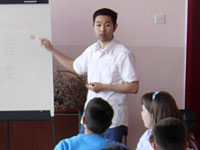 At first I introdueced by myself. I wrote my name using Japanese characters, and then explained meaning of my name.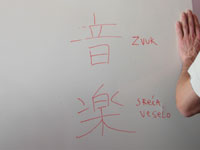 In Japanse, music is called "Ongaku". Ongaku consists from 2 characters; On + Gaku. On means "sound". Gaku means "enjoy". So "music" means "enjoy the sound".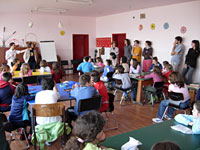 About 30 chirdren gathered to the workshop. This is a musical workshop basically. And visual art and making story include in it at the same time. Kind of complex workshop.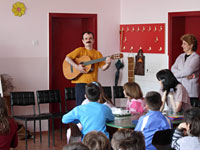 Luka from Cinc (Belgrade based band) helped me to explain about type of musics. Difference of composed piece and improvisation.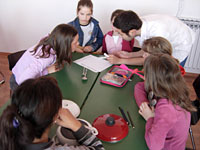 After the explanation, they formed some groups. Then Each group thought their own band names and stories for their soundtrack musics. They could use the grid score using colored pens freely.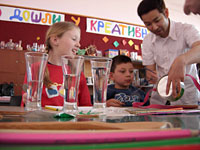 Ater deciding the name and story, they started to make music. The most Important point is "to devise and develop by themself".